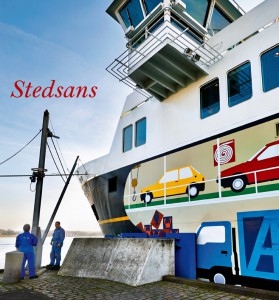 Stedsans – 25 inputs to the art out there, by Camilla Jalving
On the occasion of the 50th anniversary of the Danish Arts Foundation published "Stedsans – 25 inputs to the art out there" in October 2014. In the book, the focus is on art in public spaces and through reduction in the 25 works from 1943 to the present day, the book offers insight into the different approaches that have helped to shape the art, as we can see in the public domain in Denmark the day today. In the book the discussions and professional considerations that have arisen and arising in connection with art are called into question . The book is edited by Camilla Jalving as art historian.
Kropsskilte (Body Signs) are shown and described in Lise Skytte Jakobsen's article on "What any mayor should know about art in public space  – on changes in the work of art status and the audience's role since 1964."
Sprog:Dansk  ISBN-13:9788792894618 Sideantal:299 Forlag:Strandberg Publishing
Indbinding: Bog, indbundet Udgivet:10-10-2014 Udgave:1.
Stedsans as free e-book: http://www.kunst.dk/fileadmin/_kunst2011/user_upload/Dokumenter/Publikationer/9788792894779_stedsans.pdf
Link to other books/articles on my work
https://www.creativeactions.com/books/

More on Body Signs at Danish Art Foundations's site on public art OUR ART  http://vores.kunst.dk/view/objects/asitem/items@:12055 
Read more on Body Signs at Holbæk Municipality's site 
http://www.holbaek.dk/oplev-holbaek/natur/aktiv-i-naturen/kropsskilte/