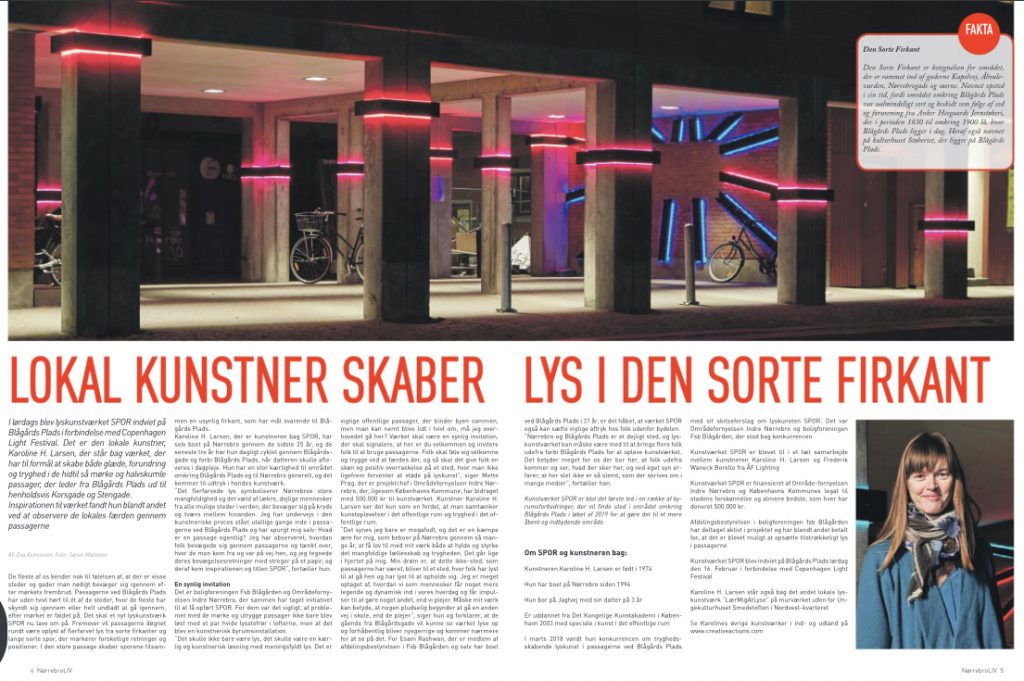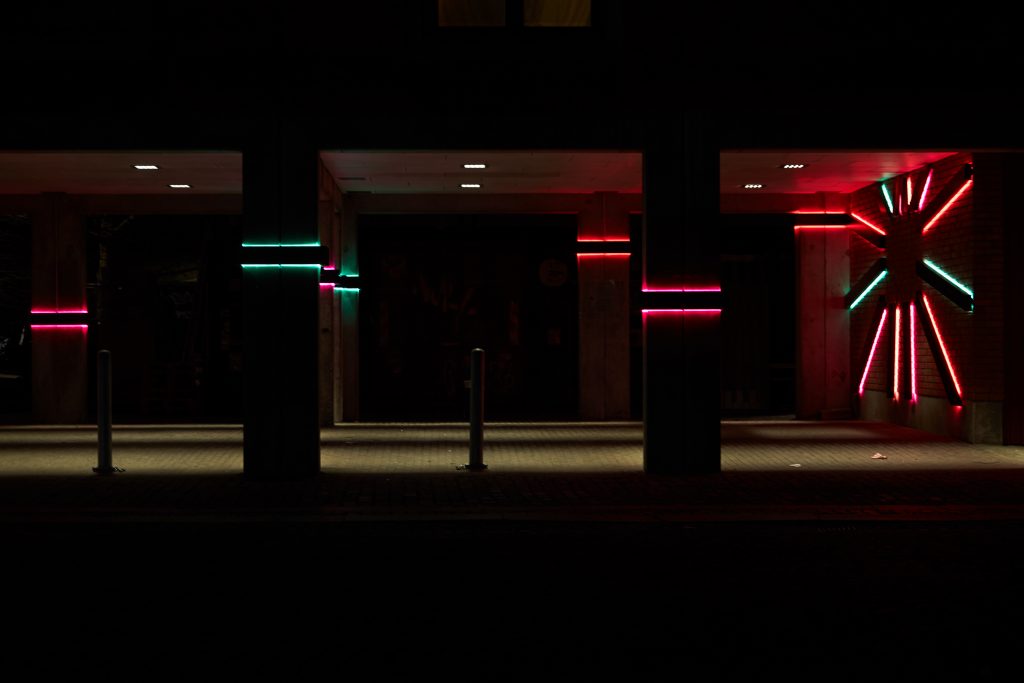 Photos by Søren Malmose
NørrebroLIV's artikel kan læses her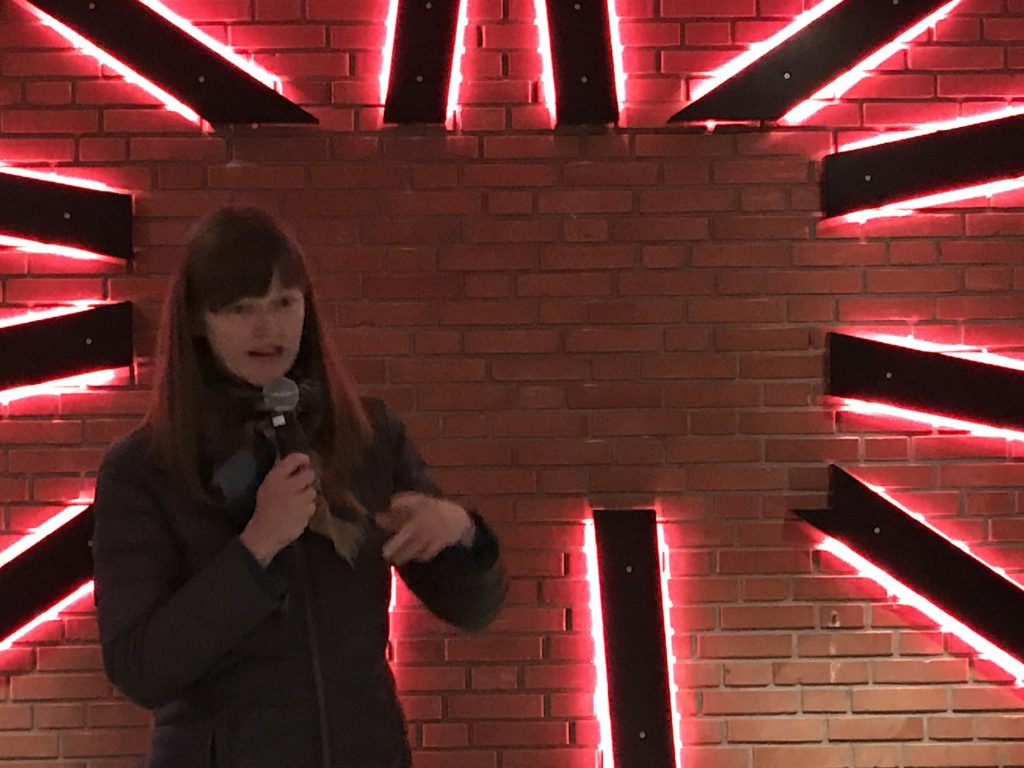 Spor – Hvor kommer vi fra? Hvor er vi på vej hen? Hvad har folk til fælles?
SPOR
I marts 2018 vandt Karoline konkurrencen om tryghedsskabende lyskunst i Passagerne ved Blågårds Plads med sit skitseforslag om lyskunsten SPOR.
Værket er inspireret af Blågårdskvarterets mangfoldighed og bevægelsen på kryds og tværs af kvarterets midtpunkt: Blågårds Plads. 
Se konkurrencematerialet her
Blågården_materiale_2018p_NY_NY
Sorte firkanter og sorte spor vil med farvet lys markerer forskellige retninger og positioner. I den store passage samles sorte spor i en usynlig firkant, som har mål svarende til Blågårds Plads. Folk som går igennem passagerne vil uden at tænke over det opleve forskellige synsvinkler; oppe, nede, midt for, tæt på, længere fra etc., og hjernen vil forsøge skabe sammenhænge, helhed, trække usynlige forbindelser og fællesskab imellem firkanterne og sporene – Det mangfoldige blik!
Blågårdskvarteret har til alle tider været et mangfoldigt tilflytterkvarter kendt som "Den sorte firkant". Beboere og gæster i området kommer fra alle verdenshjørner og bevæger sig over Blågårds Plads og igennem passagerne på kryds og tværs. Det er disse fysiske, kulturelle & sociale bevægelser, som "Spor" er inspireret af. 
Nyt loft- og funktionslys er blevet installeret her i Oktober og November.
Endelig Lyskunst forventes installeret i og indviet i UGE 4 2019.
SPOR / TRACK
Update: Come along for Light Test – On Thursday November 15 from 16-18 together with a group of young locals from Blågårdskvarteret we will test a prototype of the black light track at Blågårds Passagerne. Everyone is Wellcome!
We are working on "TRACK" the light art installation for Passagerne near Blågårds Plads.
New roof and functional lights have been installed.
The light art installation will be installed during December 2018.
In March 2018 Karoline won the competition for the light art installation.
View the competition material here
Blågården_materiale_2018p_NY_NY
The art work "Track" is inspired by the Blågård quarter's diversity and the movement at the crossroads of the center of the neighborhood: Blågårds Plads.
Black squares and black tracks will with colored lights highlight different directions and positions. In the big passage, black tracks collect in an invisible square, which has a goal corresponding to Blågårds Plads. People who go through the passengers will, without thinking about it, experience different perspectives; up, down, middle, close, longer from etc., and the brain will try to create contexts, whole, draw invisible connections and fellowship between squares and slots – The diverse gaze!
The Blågård district has always been a diverse neighborhood, known as the "black square". Residents and guests in the area come from all corners of the world and travel over Blågårds Plads and through the cross-sections. These are the physical, cultural & social movements that "Track" is inspired by.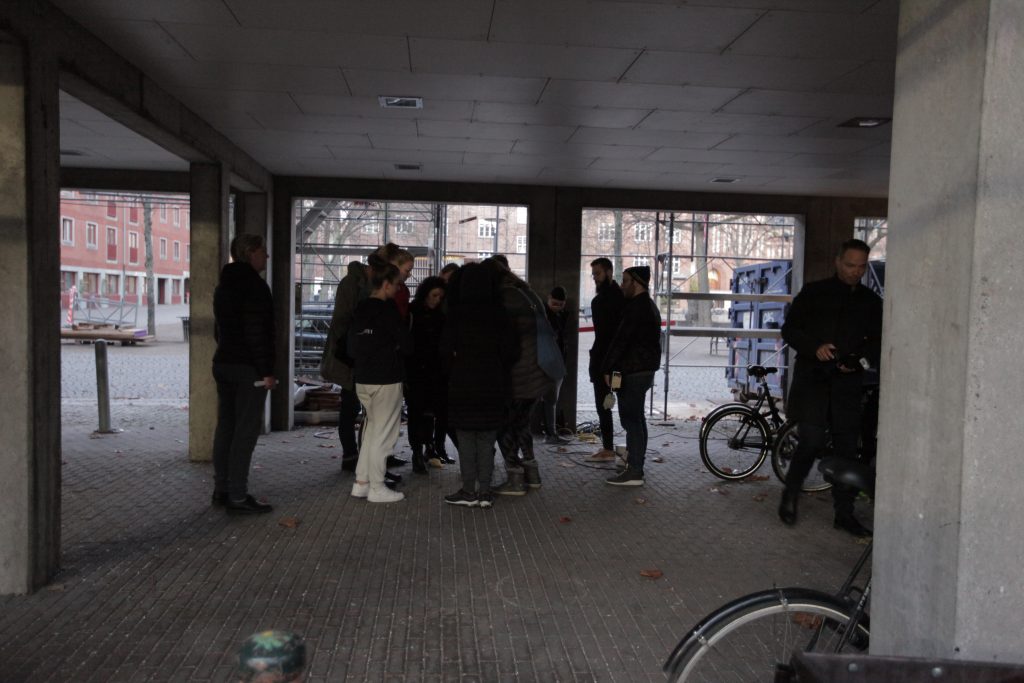 Mock-up Lystest – Torsdag den 15. november fra kl 16-18
Sammen med en gruppe unge Maryan, Muna, Dana, Rola, Luljeta og Karen fra Blågårdskvarteret testede vi en mock-up af det sorte lysspor i Blågårds Passagerne ved Blågårds Plads. På billederne se farveindstillingerne som de unge valgte til lysstesten, og som bliver forlægget for den permanente lyskunst's farvescenarier.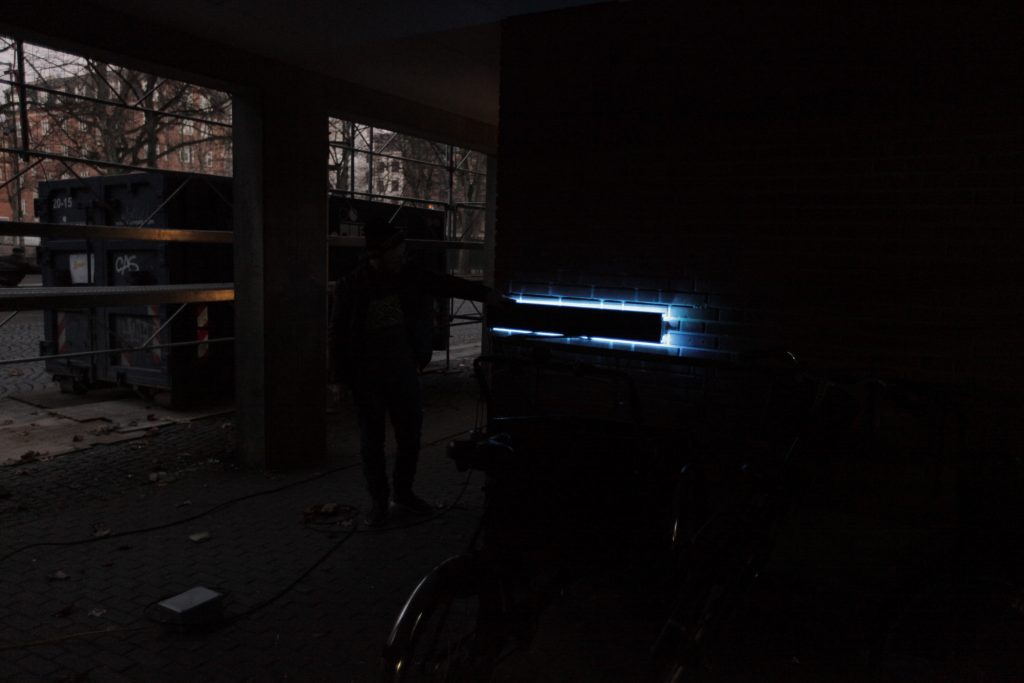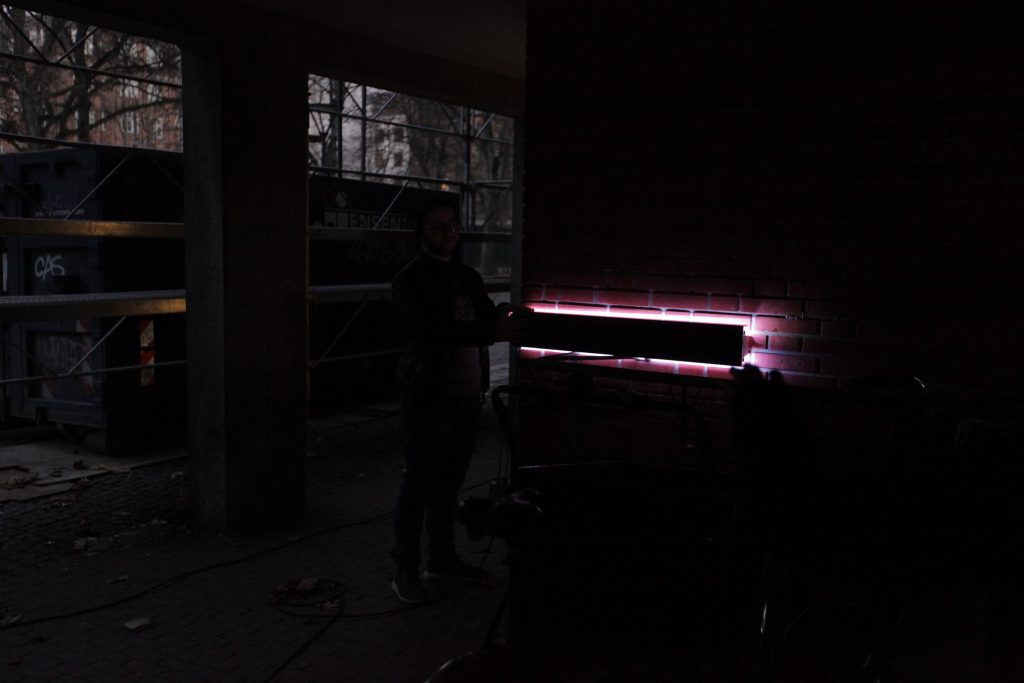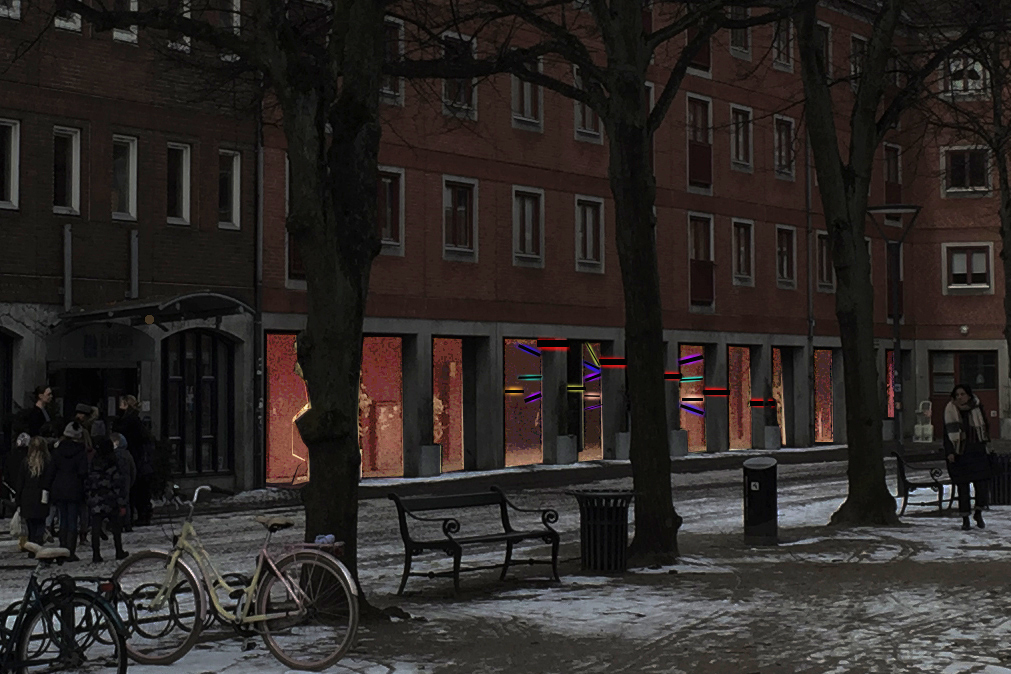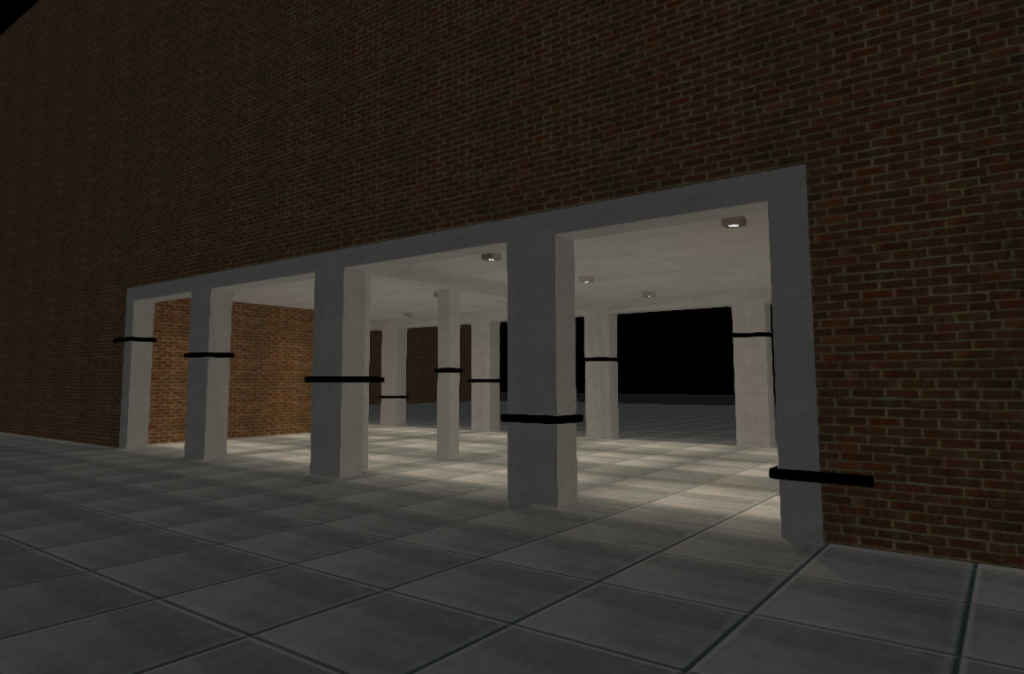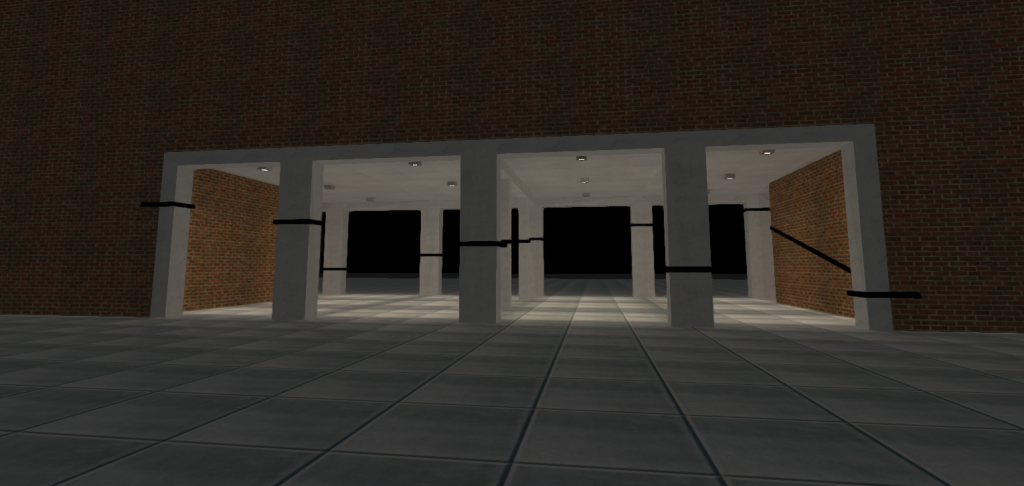 Nedenfor se FARVEINDSTILLINGER som de lokale unge valgte til lysstesten, og som bliver forlæg for den permanente lyskunst's farvescenarier.